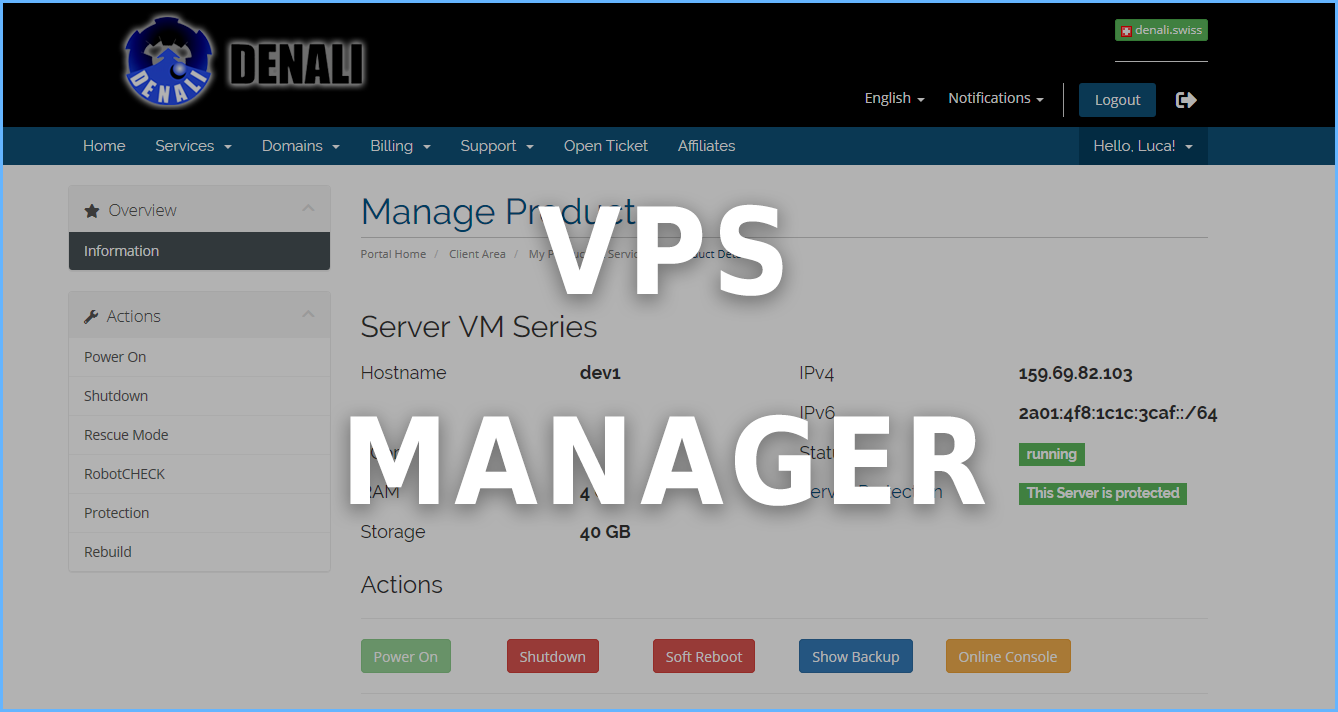 The new VPS management interface is online. Through it you can comfortably manage your server directly via browser. Various operations are available, and others will be implemented in the future. Below we offer a quick overview of all the features.
Server Main Specs

An initial overview of all server features is provided. Status is updated in real time, and indicates exactly the status of the server at that particular time. It can be Running (ie operational), Ko (off), Staging (building). Server Protection on the other hand is an additional feature that we provide to prevent a rebuild from being launched on the server by mistake (Rebuild means the recreation of the machine at the initial state).
Main Actions

These are the main actions you can perform on the server. They are easy to understand: Power On, allows you to turn on the machine. Shutdown turns it off. Soft Reboot reboots the server. Show Backup allows you to view the backups currently present. From there, if you wish, you can restore the server from one of them with a click.
Rescue Mode

Rescue mode is a very important mode. It allows you to access the server with a minimal Linux distribution. And mount your server as a secondary disk. To be able to perform all the maintenance you want or need the dismounted disk (one on all the disk check).
RoboCHECK

Our RoboCHECK is our exclusive mode. It automatically checks your server. The machine is turned off and an automatic disk check is performed and then restarted. With just one click.
Server Protection

The Server Protection server to enable or disable the ability to run a server Rebuild. This prevents you from doing it by mistake.
Server Rebuild

Through Server Rebuild you can restore the server to factory settings. Very useful if you miss an installation and want to start over. Several images of newer Linux based operating systems are proposed. They are updated every 3-6 months.
Server Logs Activities

The Server Logs Activies allows you to have an overview of all the actions performed on the server. They are updated in real time.
Server Backups&Recovery

The Backup & Recovery feature allows you to always keep an eye on the available backups. By clicking on the Rebuild button, the server will be restored to this specific backup.